Навигация по сайту
Игры / Образы

Игры на русском языке

Коды / Советы / Секреты

Наши переводы

Наши проекты

Игры на русском языке (OnLine)

Эмуляторы

Обзоры игр



Принимаем пожертвования

Яндекс: 410012588249319
WMR: R371578751646 (рублики)
WMZ: Z803750001922 (доллары)


Случайная игра
Вступай!!!
Облако тегов
Cheat, Cheats, Dendy, download, Eggs, Genesis, MegaDrive, NES, PlayStation, PlayStation 2, PS, PS 2, PS One, PS2, PSOne, PSX, Secrets, Sega, Sega Genesis, Sega MegaDrive, SMD, Sony PlayStation 2, Денди, ЗЫЧ, Коды, Обзор, Пароли, пасхальные яйца, перевод, подсказки, прохождение, прохождения, Секреты, скачать, Советы, Статья, уловки, Хитрости, Чит, Читы

Показать все теги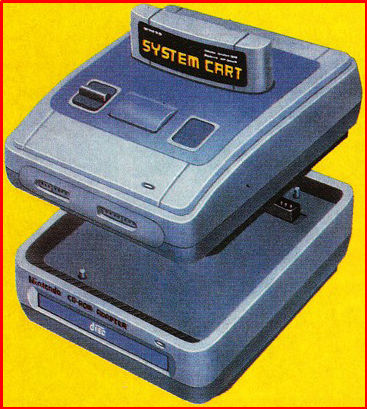 The system cart will contain all of the 'brains' for the S-NES CD-ROM
One of the biggest surprises at the Winter Consumer Electronics Show was Nintendo's announcement of some of the specifications for their upcoming Super Nintendo CD-ROM drive. Their press release stated that their unit would be in the stores as early as January 1993, and that it would sell for only about $200! Add in the fact that almost all of the specifications they published equalled or exceeded the ones for Sega's Mega CD-ROM, while the price was only about half of what Sega's unit was selling for at that time in Japan ($370).
After this announcement, Nintendo went back into seclusion and the editors started to pull together every possible detail available from all of it's World Net sources. This search, piloted by Mr. Michio Ohashi, Editor of The Super Famicom magazine in Japan, has turned up new information compiled from industry sources and analysts.
In order to allow game developers sufficient time to have new CD-ROM software available for the early 1994 launch of the Super NES CD-ROM peripheral, Nintendo of Japan wrapped up the development work on their Super NES ND (Nintendo Disc) Drive last December. EGM has been able to get the final specs and system configuration from Japan and this peripheral really looks hot!
ND SYSTEM PACKAGE
The Super NES ND Drive (the official U.S. name hasn't been decided yet), when it comes out, will consist of three parts: the ND Drive, the ND System Cartridge and the CD-ROM AC Adapter. The ND Drive will be 9 1/2" deep, 7 7/8" wide and 2.9" thick (the same size as the Super NES) and it will weigh 2 lbs 7 02. The ND System Cart will contain the majority of the 'brains' and will plug into the cartridge slot of the Super NES. There will be a cord from the system cart to the ND Drive that will transfer data and/or power.