Навигация по сайту
Игры / Образы

Игры на русском языке

Коды / Советы / Секреты

Наши переводы

Наши проекты

Игры на русском языке (OnLine)

Эмуляторы

Обзоры игр



Случайная игра
Вступай!!!
Облако тегов
Cheat, Cheats, Dendy, download, Eggs, Genesis, MegaDrive, NES, PlayStation, PlayStation 2, PS, PS 2, PS One, PS2, PSOne, PSX, Secrets, Sega, Sega Genesis, Sega MegaDrive, SMD, Sony PlayStation 2, Денди, ЗЫЧ, Коды, Обзор, Пароли, пасхальные яйца, перевод, подсказки, прохождение, прохождения, Секреты, скачать, Советы, Статья, уловки, Хитрости, Чит, Читы

Показать все теги
In order to allow game developers sufficient time to have new CD-ROM software available for the early 1994 launch of the Super NES CD-ROM peripheral, Nintendo of Japan wrapped up the development work on their Super NES ND (Nintendo Disc) Drive last December. EGM has been able to get the final specs and system configuration from Japan and this peripheral really looks hot!
ND SYSTEM PACKAGE
The Super NES ND Drive (the official U.S. name hasn't been decided yet), when it comes out, will consist of three parts: the ND Drive, the ND System Cartridge and the CD-ROM AC Adapter. The ND Drive will be 9 1/2" deep, 7 7/8" wide and 2.9" thick (the same size as the Super NES) and it will weigh 2 lbs 7 02. The ND System Cart will contain the majority of the 'brains' and will plug into the cartridge slot of the Super NES. There will be a cord from the system cart to the ND Drive that will transfer data and/or power.
GAME SOFTWARE
In a bold move, Nintendo will deviate from the standard 'bare CD' format that Sega and T.T.I, use. Each of Nintendo's game discs will come in its own CD caddy as many computer CDs come now (see photos).
In addition to this change, Nintendo will build in a software security device that will make illegal duplication of the software impossible. The custom case will also contain 256 Kbit of back-up RAM for game data storage.
TOP VIEW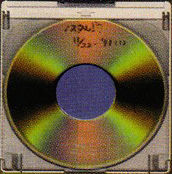 BOTTOM VIEW (door open)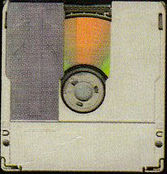 The Super NES CDs will come in individual caddies that protect the disc from damage.
ND DRIVE CD-ROM SPECS
Most of the specifications haven't changed from the ones we reported back in the March and June 1992 issues of EGM.
The co-processor will be 32-Bit and it will run at 21.477 MHz. There will be 8 meg of memory on board plus another 1 meg of PS-RAM sub memory, plus 2 meg of ROM. The games will be XA compatible (playable on Phillips CD-I machines).
What is new, is that there will be an additional 4 megabit of supplemental D-RAM memory built in.
There also will be a new CD-ROM decoder, code named HANDS (Hyper Advanced Nintendo Data transfer System). HANDS is a custom chip which basically consists of another processor - a 65C02 (which will run at 4.295 MHz). The reason for HANDS is that it will allow the main memory (8 Mbit of D-RAM) to be read without having to stop the work the coprocessor is doing. It's kind of like multi-tasking. HANDS will automatically help in some of the data crunching by converting graphic data to character data for the Super NES.
Stay tuned, as next issue we will delve even further into Nintendo's new top secret 32-Bit wonder!
SUPER NES CD-ROM SPECS
Main Memory:
D-RAM
8 Mbits
PS-RAM
1 Mbit
(Super NES Memory)
1 Mbit
Supplemental Memory:
D-RAM
4 Mbit
System ROM
2 Mbits
Co-Processor (SCCP):
Type
32-Bit RISC
Clock Speed
21.477 MHz
Cache
8 Kbit
CD-ROM Decoder (HANDS):
Type
65C02
Clock Speed
4.295 MHz
CD-ROM Drive:
Standard Access Time
0.7 Sec.
Max. Access Time
1.4 Sec.
Read Error Rate 10
-12
or less
Data Output Speed (Norm)
150 KBytes/sec
Data Output Speed (2x)
300 KBytes/sec