Навигация по сайту
Игры / Образы

Игры на русском языке

Коды / Советы / Секреты

Наши переводы

Наши проекты

Игры на русском языке (OnLine)

Эмуляторы

Обзоры игр



Случайная игра
Вступай!!!
Облако тегов
Cheat, Cheats, Dendy, download, Eggs, Genesis, MegaDrive, NES, PlayStation, PlayStation 2, PS, PS 2, PS One, PS2, PSOne, PSX, Secrets, Sega, Sega Genesis, Sega MegaDrive, SMD, Sony PlayStation 2, Денди, ЗЫЧ, Коды, Обзор, Пароли, пасхальные яйца, перевод, подсказки, прохождение, прохождения, Секреты, скачать, Советы, Статья, уловки, Хитрости, Чит, Читы

Показать все теги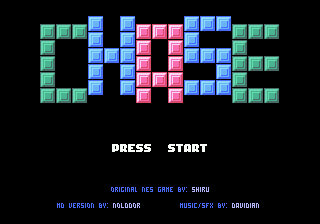 User Manual
Introduction
This game has been designed for use it with a
Sega Genesis / Mega Drive
videogame systems, or with an emulator for those videogame systems. To play this game on a console, you need an
FlashCard
(for example
Mega Everdrive
) This game is not produced by or under license from
Sega Enterprises LTD
. This is a free game, and distributed "just like that", without any kind of warranty, either express or implied.
Stor
Chase, that's how our protagonist is called, has heard rumors about a strange treasure hidden in the highest tower of the castle Belafort, an abandoned and inhabited place outside their village where live the most dark and gloomy beasts from so long ago that neither remembers.
The Belafort castle originally, was owned by a famous thief who spent his last days of life to build mazes in each and every one of the ten floors that had the highest tower of the castle, in order to keep their wealth safe once he died.
Will you be able to help Chase on his adventure?
Escape from the beasts that protect the castle and back safely with the TREASURE!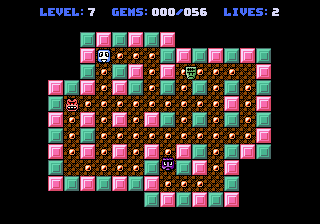 Enemies
Vampy, Franky and Bandy will try to prevent that you steal gold coins that make up the buried treasure.
Go carefully! because although Chase is much faster, they know the labyrinths of the tower as the palm of your hand, and probably end up trapping you at the crossroads between two aisles or cornering you on both sides.

Chase

Franky

Vampy

Bandy
How to Play
Help Chase to collect all the coins scattered in every labyrinth of the tower in order to climb to the next floor, if you can reach the floor number ten and collect all the coins in it, you'll have escaped safe from the castle with the legendary loot.
Be careful not to be catched, if any of the beasts that protect the treasure hits you lose one of your three lives, if you los all of them your mission will have failed.
Control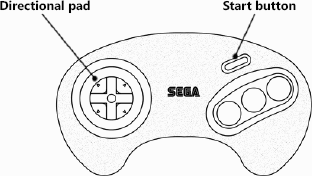 [
Start Button
] - Press this button during gameplay in order to stop or resume play.
[
D-pad
] - Use this button for moving Chase through the mazes of the four possible directions.
Technical Dat
· Programming:
Jack Nolddor
· Conversion and levels design :
Jack Nolddor
· Conversion and graphics desing:
Jack Nolddor
· Sounds conversion and Music / SFX:
Davidian
aka David el Murciano
· English translation: Christian Navarro aka
Draubon
Chase is a game originally created by Shiru for NES.
Vampy and Franky are characters created by The Mojon Twins, and have been used in this game under their express consent.