Навигация по сайту
Игры / Образы

Игры на русском языке

Коды / Советы / Секреты

Наши переводы

Наши проекты

Игры на русском языке (OnLine)

Эмуляторы

Обзоры игр



Принимаем пожертвования

Яндекс: 410012588249319
WMR: R371578751646 (рублики)
WMZ: Z803750001922 (доллары)


Случайная игра
Вступай!!!
Облако тегов
Cheat, Cheats, Dendy, download, Eggs, Genesis, MegaDrive, NES, PlayStation, PlayStation 2, PS, PS 2, PS One, PS2, PSOne, PSX, Secrets, Sega, Sega Genesis, Sega MegaDrive, SMD, Sony PlayStation 2, Денди, ЗЫЧ, Коды, Обзор, Пароли, пасхальные яйца, перевод, подсказки, прохождение, прохождения, Секреты, скачать, Советы, Статья, уловки, Хитрости, Чит, Читы

Показать все теги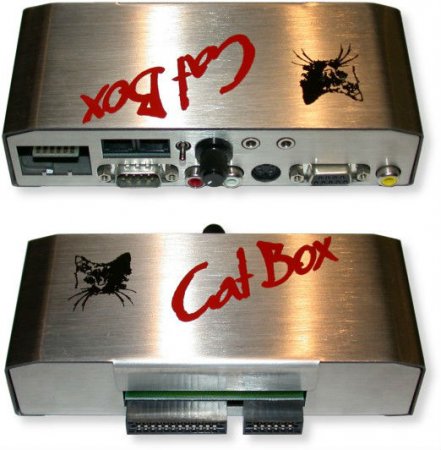 Atari Jaguar owners wishing to increase their system's output and communications capabilities will want to snatch up ICD's CatBox expansion peripheral. The CatBox plugs directly into the back of the Jag. redistributing outgoing signals into six output formats — three for audio (line-level stereo. RGB monitor, head-phone jack with volume control) and three for video (composite. S-video and analog RGB.) These connections make the Jaguar compatible with any number of high-quality monitor systems, and with multiple monitors at the same time. The CatBox also features three kinds of communications ports which allow two or more Jags to be connected for simultaneous multiple-player action on games like Doom.
But to get down to the brass tacks of it. the reason people will want to own this CatBox thing is. well, it's just so darned cool-looking! With its polished steel skin and glowing LED "eyes" in the cat logo, the CatBox will make your Jag look like it was altered by the government to run NORAD from your basement. In fact, the designers are so proud of their dense assemblage of Radio Shack flotsam that the instructions actually encourage owner's to disassemble the thing, just in order to marvel at its silicon guts.
For more information, contact ICD. Inc. at 1220 Rock Street. Rockford. IL 61101, or call (815) 968-6888.